Real Estate Marketing in a Physically Distant World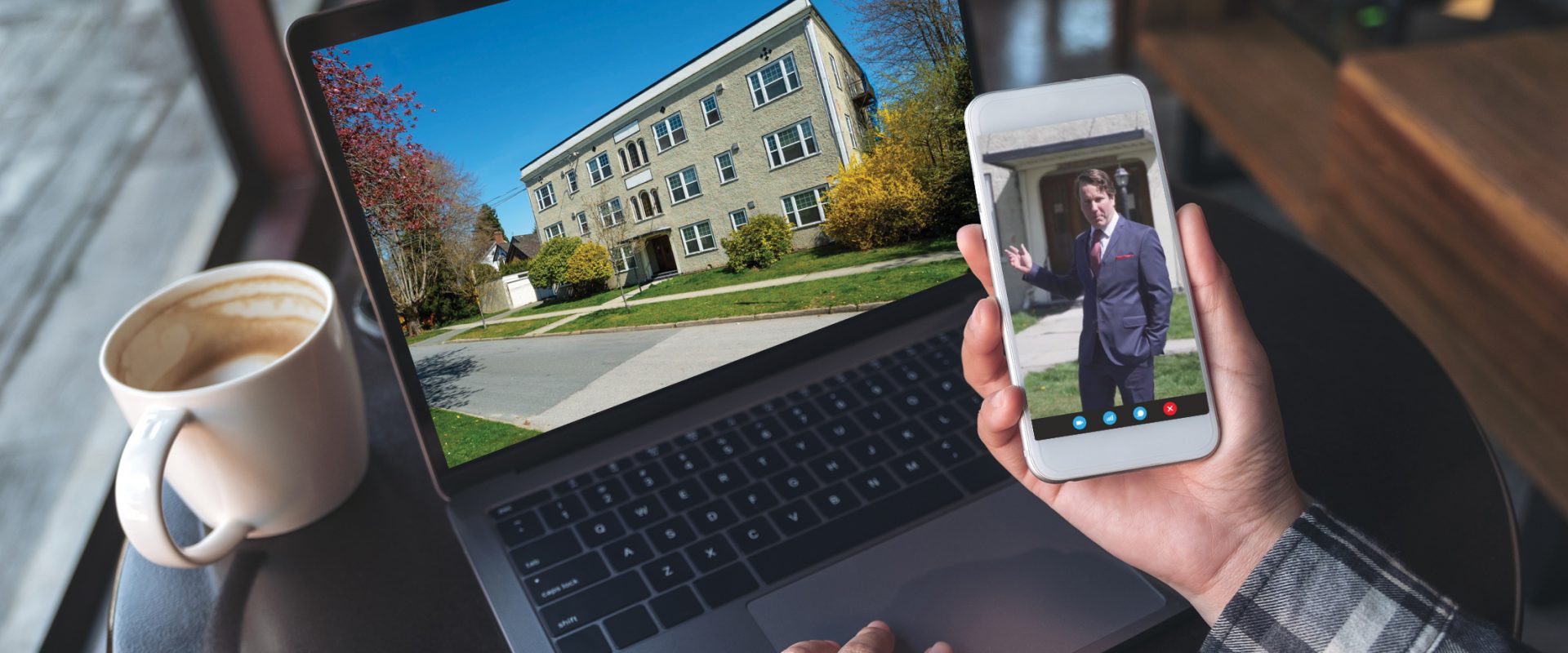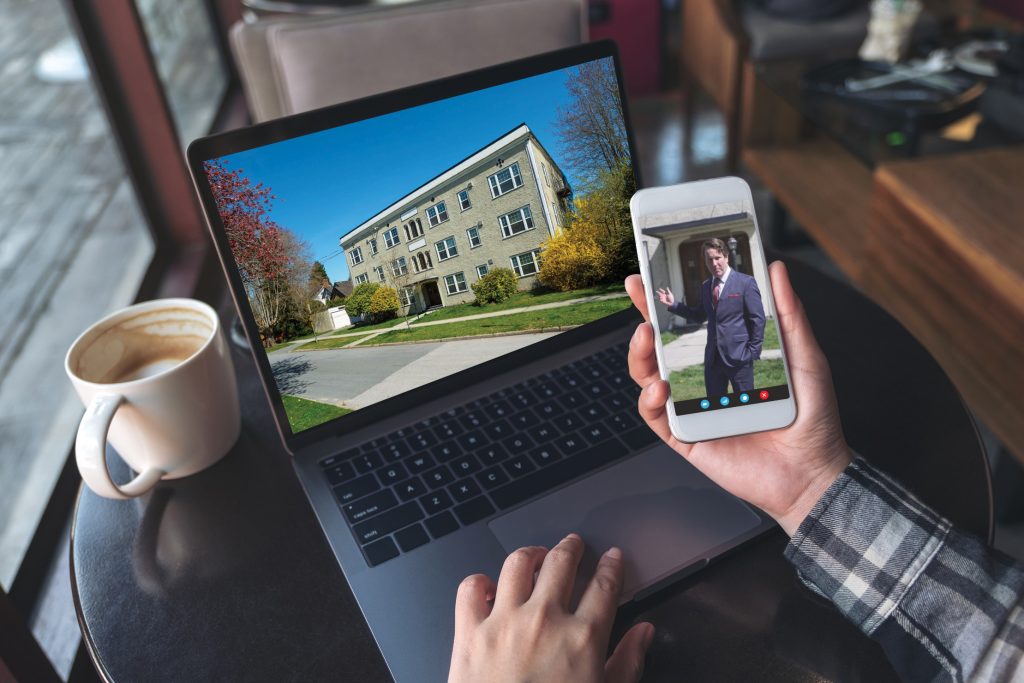 Adapting to the New Normal
Physical distancing has become an essential component of preventative measures amidst the COVID-19 crisis, and will continue to impact our daily lives and how we conduct business for the near future. As we adapt to this new normal, our team is prepared to assist you with your long-term investment goals while keeping your health and safety in mind.
Going forward, we aim to provide you with a wide variety of digital resources in order to help you make informed investment decisions. Some of the marketing tools we will be utilizing include:
Property Video tours
Click-Through Tours (Matterport 3D)
Zoom tours
3D renderings/Animation
Floor plans
Virtual staging and renovations
All marketing materials will be made available on a property-specific web page. 
Digital Marketing & Sales Process

Below you'll find detailed descriptions of each of these marketing initiatives, as well as our health & safety plan for conducting private in-person tours when the time is appropriate.
Virtual Tours
In an effort to minimize the number of in-person tours, virtual tours are the next best alternative. We'll be utilizing best-in-class technology and tools, including:
Property Videos: Property videos capture the essence of a property within a short 2-3 minute time frame; allowing you to view exterior and interior features, common areas, and location highlights. When captured correctly to showcase proper dimensions and suite features, property videos can tell an all encompassing story of a property. Click here to see an example.
Cick-through Tours (Matterport 3D): Matterport is a powerful 3D platform that can turn a space into an accurate and immersive digital tour. This technology enables you to "click-through" and essentially walk through a property at your own speed and view the space from multiple angles. Click here to see an example.
Live video tours with your agent using Zoom/FaceTime: we'll arrange a time for the agent to head on-site to the property and walk you through the building while you view it from the comfort of your own home.
3D Renderings/Animation
3D renderings help bring concepts to life through conceptual renderings and visual effects/animation. This option is ideal for properties that are currently under development, or for future land development sites to show what can be built on the site.
CBRE Build: Technicians work closely with Developers and Architects to build a virtual 3D model that turns sketches, photos, floor plans, and CAD plans into video-game like 3D rendered spaces that are easy to explore. Click here to see an example.
Animation/VFX:  A number of Creative Marketing Studios utilize high-end animation and VFX programs to build 3D environments based on floor plans, architectural drawings, and/or massing plans. Our team has outsourced 3D renderings in the past to showcase potential developments, which were built-out using massing plans created by an Architectural firm. Click the image to the left to view an example 3D rendering video.
Floor Plans
Floor plans are an excellent addition to any property marketing package, as they provide an accurate property overview, specifically where all units and common areas are located, how the space is configured, the property's square footage, and individual unit sizes. More often than not, a property owner will have building plans available. In other cases, a professional may be commissioned to measure the entire building. For an example of a recently measured building floor plan, please click the image to the right.
Going forward, we will ensure floor plans are available at the onset of an offerings marketing process to complement the property video tours and photography.
Photography
Virtual Staging & Renovations
Photography and physical tours have always been a regular part of the property marketing process and has typically been well-received by existing tenants prior to COVID-19. However, for the purposes of everyone's health and safety, our aim is to photograph and tour through vacant suites for the immediate future.
While photos of vacant suites can provide a general idea of suite size and layout, they don't quite paint the entire picture in the same way that a furnished photo would. Virtually staged photos allow us to showcase a suite at its highest potential and provide better context on the layout.
Additionally, certain properties require upgrades and/or suite renovations. Particularly aging buildings or those that are not achieving their highest rent potential. Virtually renovated photos are an excellent tool to demonstrate how a current space can be improved and assists prospective buyers in conceptualizing the potential of a renovated suite.
Click the image to the left to see examples of both virtually staged photos and virtually renovated suites.
Physical Building Tours: Health & Safety Protocols
Before conducting any in-person tours, we will be pre-qualifying prospective purchasers more stringently, ensuring they've viewed all marketing materials and have the appropriate financing in-place. When a high level of interest is determined, we will be prepared to tour the building safely.
During any in-person tours, we will ensure the following:
Personnel Limits: Only 1 person per interested buying group will be allowed to tour the building at a time;
Physical Distancing: Mandatory distancing protocols of 2 meters apart between the agent, interested party, and building manager;
Tour Coverage: We will tour common areas, view integral building components (i.e. roof, mechanical room, etc) and if possible, vacant suites only. If no vacant suites are available, we will prepare tenants well in-advance and ensure them of the safety precautions that will be taken during the tour;
Personal protective equipment (PPE): PPE will be mandatory for both the agent and the prospective purchaser, including the use of masks, gloves, and hand sanitizer. If you do not have any PPE, you will be required to notify your agent in advance so that he/she may provide you with the appropriate gear or make arrangements;
No-touch viewings: All internal suite entrances/doors and in-suite storage/closet units (if applicable) will be left open prior to entry.
We understand the importance of physical property tours prior to making any purchase decisions and will ensure we conduct them with everyone's safety as our top priority.
What About When I'm Prepared To Make an Offer?
When an interested buyer is prepared to make an offer, we will be able to do so digitally by utilizing the appropriate software to prepare contracts, make changes, and gather signatures (via DocuSign for example).
While there has been a lot of changes over the last 2 months as a result of the COVID-19 pandemic, our Apartment Sales team has been working diligently to adapt and to be of service to all our clients and friends in the industry. Within the last month we have been successful in putting multiple apartment deals under contract, firming up a significant land sale, and just recently we launched a new listing in New Westminster using a number of the marketing initiatives referenced above.
We are starting to see a positive resurgence in the multi-family market and we're looking forward to seeing this increasing momentum continue forward throughout the coming year.
In the meantime, stay healthy and well. We look forward to working with you soon!